Craft Product Review: Liquitex Ultra Matte Gel
March 12th, 2010
Been looking at my craft stash lately. Been buying more stamping supplies, too. What fun! Here's a look at what I'll be doing for Craft Critique in the next few months.
Update: This article is posting on April 5, 2010 at www.craftcritique.com
Liquitex Ultra Matte Gel (gel medium)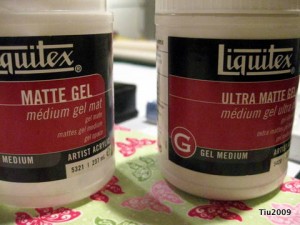 Gel medium is one of the most versatile products you can have in your arsenal of craft tools. It can turn any piece of fabric into a primed canvas for painting. It can also be a great glue for collages or protect pictures and paintings. Mix it with your acrylic paint and you've extended its life. I'm sure there are more uses, but being an intermediate non-professional crafter, I like to use it for my painted fabric silhouettes.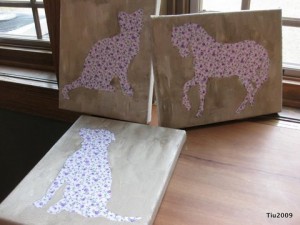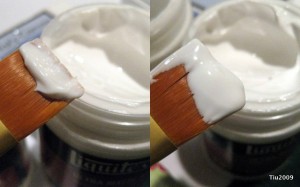 I'm comparing the Liquitex Ultra Matte Gel to the Matte Gel, which has been my preferred substrate. Both have the consistency of a smooth, non-sticky, lightweight batter, but Matte Gel (on left) is translucent while the Ultra Matte (on right) is semi-opaque. For my purposes, I needed to thin the Ultra Matte Gel so my printed fabric would show through. However, when the gel medium was fully dry, you could tell that the original color was slightly altered (see fuschia butterfly wing). If keeping the original vibrancy is an issue, I would stick with translucent or transparent gel medium.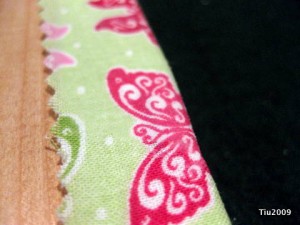 For lengthening the life of a mixed color, Ultra Matte Gel is fantastic. Just don't use too much, otherwise your color will lighten. Remember to do a test spot in any application.
Retails anywhere between $10-$12. Store coupons are useful since these products hardly ever seem to go on sale. I was fortunate to find this in the clearance rack for under $4.00.
Pros:
A little goes a long way
Slow drying and does not yellow
Nice matte finish
Can be thinned with a little water
Easy clean up
Cons:
May be cost prohibitive
Slow drying
May dull or lighten colors
Update: This article will also be posting on the Craft Critique site in the near future.

Disclaimer: I was not paid by Liquitex or Craft Critique for my opinion.
Tags: craft critique, crafting, gel medium, liquitex, paint, painted silhouettes