Some Birthday Card crafting
March 26th, 2010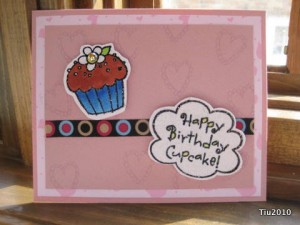 I've been hard at work 1) finishing up a product review, my second one, for Craft Critique, 2) trying to schedule a speaker for the NAWIC Chicago chapter, 3) getting Communion invitations together.
In the meantime, we had a few special birthdays to celebrate. It was really fun experimenting with my Copic markers on the cupcake card (shown above). I don't even have a full blown set, but enough where I can mess around with the shading. Then I felt compelled to pull out my Lumiere paint and start this: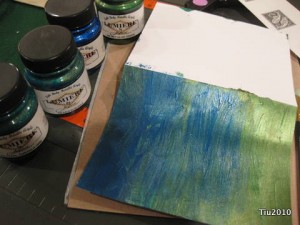 which turned into this… a sort of Griffin and Sabine-Nick Bantock feel. Perfect for the recipient. It wasn't intentional, either. I so love my Nick Bantock stamps. Two of them are on the card; the archaeological glyph-ish stamp and compass rose.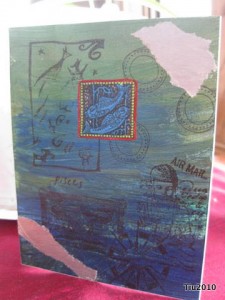 And what a difference with the details when I used VersaFine ink! Tried the Copic markers again, and then went over the image with a gloss.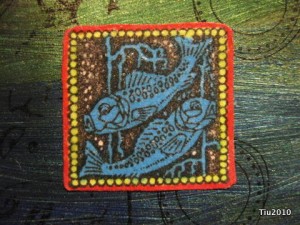 Other updates:
I was recommended for appointment to the Historic Preservation Commission. I really need to get started on some reading now.
Compost container is almost done. I didn't finish it in class, but all the pieces and parts are here. Wait until you see it!
Exercising took a small setback with Daylight Savings. Seriously, I am having such a hard time getting up in the morning, but I got back on the bike yesterday and today.
A HUGE thank you to everyone who answered the survey. I used a name randomizer on www.annabet.com for the Midwest Living magazine subscription winners: Elmin Pittges and Sally Chalex.
And, I'd like to introduce a new interactive scrapbooking community, Club Creating Keepsakes! Please check out this link at Craft Critique to learn more and win giveaways!
Tags: birthday, cards, collage, copic marker, craft critique, lumiere paint, nick bantock, rubber stamping