A Favorite Game: Restaurant City
September 29th, 2010
I'll admit it. I'm addicted to this game on Facebook. It only makes sense. I like food, building and design, enjoy the multi-tasking and managing. All the fun and none of the risk. You pick the menu, get food as awards, decorate your restaurant and if you manage it well, it grows. At first, my kids were really into it, so naturally, I named our little cafe "Ollie's", then "Abby's" and "Julie's Cafe".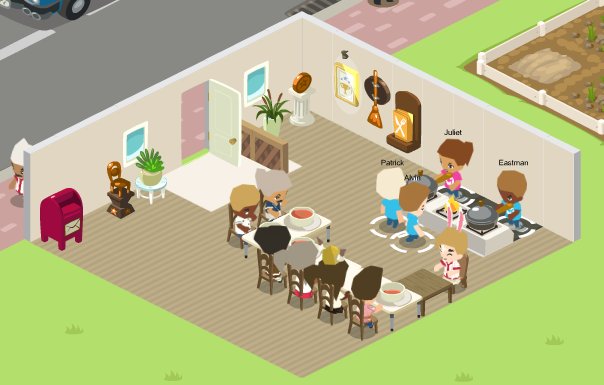 It looked like this many, many months ago. And now, the place is "SereniTEA" and has grown by leaps and bounds. I gave it an Asian feel for obvious reasons. The graphics are just so darn cute, from the furnishings to the food. These designers are doing such a nice job with it.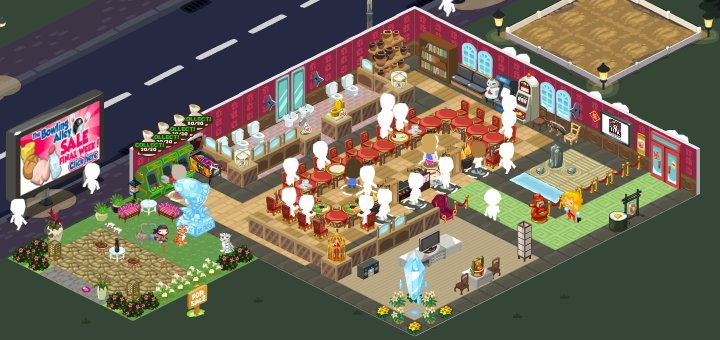 This might make you wonder if all I do is sit around and play video games all day. I can assure you the answer is NO. After a long hiatus from Sim City (another virtual world game that I played years ago.), I found this to be just a fun way to decompress from everything else I do. Anyone else out there play this game?
Unrelated and random thoughts
The Chicago Craft Social last Friday was another hit! Lots of first-timers, lots of familiar faces, too. Check out my review on Craft Critique soon!
The T-shirt quilt top is so close to being done! I probably have a few more hours on it. Now if I could just stop blogging, playing, doing chores, etc. and finish the darn thing. *grin*
I can't believe Christmas is less than three months away, which means, our cookie exchange is about 2-1/2 months away! Planning will begin soon!
There's a new writing opportunity at my door… more on this soon! *** UPDATE! The online newspaper has launched. My articles (like you need more of me?), mostly on food and cooking, will run every two weeks. Thanks for all the support! ***
Tags: fun, games, restaurants, websites