T-shirt Quilt Mistake and Lesson
October 6th, 2010
I'd like to offer a haiku about my quiltmaking.
T-shirt quilt
How you challenge me
Time lost from mistakes
In reality, I didn't lose too much time. It's not like I have a hard deadline to finish this quilt. Though, I would like to move on to some other projects and stop kvetching about this one. Everything seemed to be going along so well…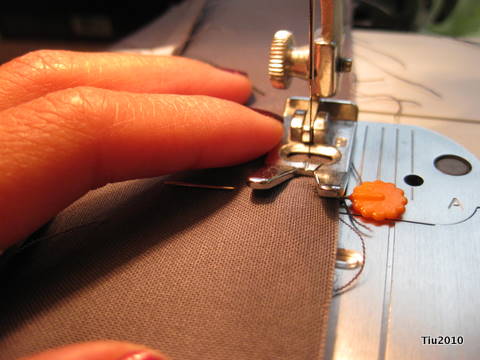 … I prepared what I was going to sew, checked the machine and bobbin, made sure I had plenty of thread, and started sewing. What I didn't do, was double check my layout. In other words, did I connect the right columns together?
My excitement was short-lived as I realized, "Nooooo, I hooked up the wrong columns! ACK!" I definitely didn't want to take out the seam ripper. The thought of undoing a seam the length of a large bedspread was not my idea of fun especially when I had taken so much care to sew the straightest line I think I've ever done. Ugh. I was so irritated with myself. I stormed upstairs, told my husband what happened, and he so nicely listened to my novice-quilter nonsensical ranting. Then I calmed down and thought, I'll figure it out. I always do.
Lessons Learned (so far)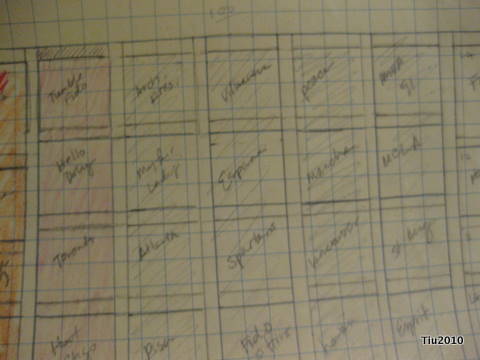 Make plans: Make your gameplan, have something to follow. At least you have a starting point and a goal.
Follow plans: I don't have loads of uninterrupted time, but step-by-step, I was making progress.
Be ready to "call an audible" and accept the change: You know, make a last minute change or decision. Okay, so I've used a football analogy. (I guess my husband's football obsession has taught me a few things.) So, if the plans somehow don't work out, sometimes it's just better make new plans. In this case, I swapped locations for columns 2 and 3, then 5 and 6. I wanted columns 1 and 7 to stay in the same place due to t-shirt sizes.
I'd like to think I'm a little less wound-up than I used to be, because, if I was doing this maybe 5-10 years ago… I would be taking that seam ripper and starting over. I'd be cursing, and beating myself up for a fairly insignificant mistake. It's a t-shirt quilt after all. This might be one of the more forgiving projects I've undertaken. Tell me there are quilters out there who just make lemonade out of lemons, so to speak.
Why am I sharing this? Because in a way, it's like everyday life, right? You make plans, you think you know where you're going, but then boom! You get sidetracked (by something significant or not) and you have to either compromise your plans or improvise new ones.
*sigh* Who knew hobbies could be so deep?
UPDATE ** I forgot to mention that there is a great crafty giveaway at Craft Critique! Open until October 10! **