Project Progress: The T-shirt Quilt
February 19th, 2011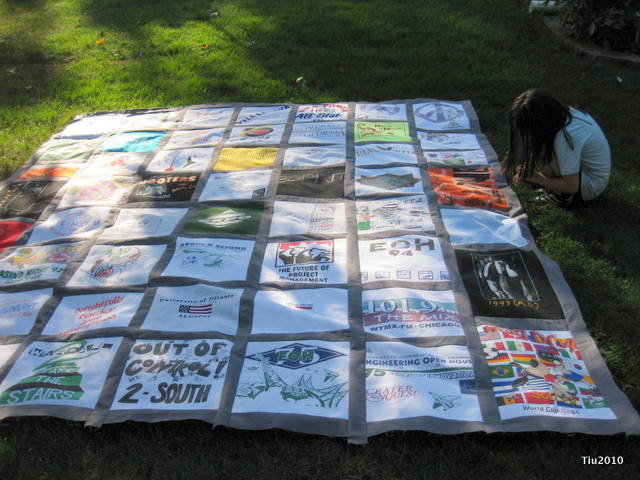 Remember this?
Now it has a backside.
It would've been finished a long time ago except for three things.
One – I miscalculated the amount of solid color fabric (Kona Coal) needed and bought too little.
Two – I usually wait until the sales to buy fabric, but Kona Coal is one of the most popular color at our local store which means it's almost always out. I didn't attempt to "special order" it, or comb the online stores either. So I waited. And then waited some more. Finally got the end of a bolt last week.
Three – I could've just made the quilt back all easy-peasy, but no. I had to get all fancy and try my hand at some wonky squares, and it was difficult just figuring out the final layout. Oh, the amount of sketches I did, and piecing things together on the floor. I told myself, "Sheesh, it's just a blanket… just finish it already."
And now, it's done!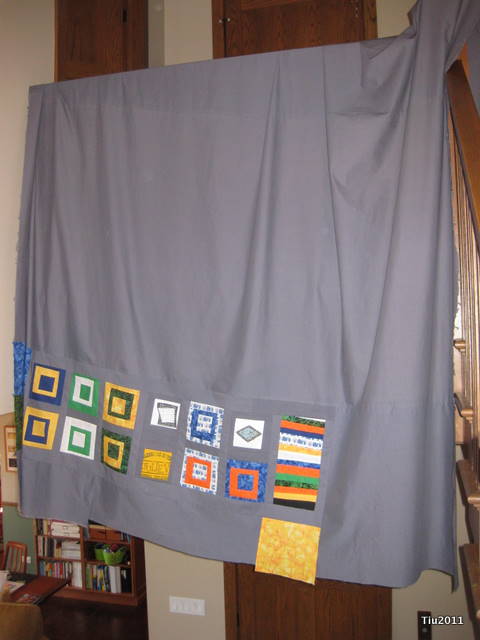 Going BIG with my first quilt.
Now it's time to make the quilt sandwich… I have the batting, and a ton of safety pins to put it all together. As much as machine-quilting looks fun, my machine would probably explode if I even attempted to freestyle quilt. So, I think this one will be hand-tied the good old-fashioned way. My daughter really wanted to help out, and I think it's something we can do together. Any tips on what sort of thread to use? Next time I go to our fabric store, I'll be asking the ladies at the counter… they're just as excited that my project is moving along, too.
Tags: blanket, crafts, doll blanket, pillow, pillowcase, quilt, quilting, sewing