Recipe: Chicken Broccoli Braid
November 5th, 2012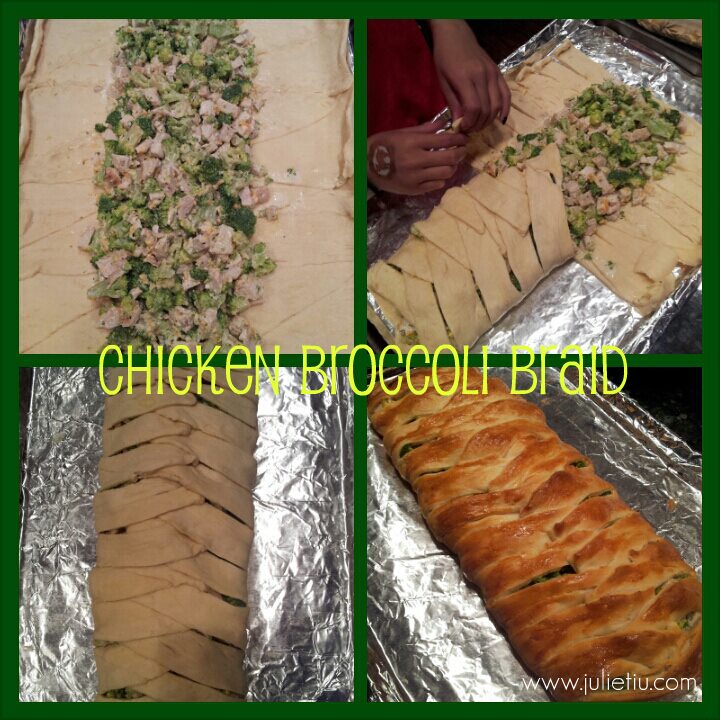 When my husband works late, or is out with the guys, my daughter will ask if I can make this for dinner. Like it's her "mom-kids night" favorite? It's cute to hear her say, "Ooh, chicken braid…" This time she helped put it together. Easy, so easy to make when you have some leftover chicken and broccoli. You could even use a bag of frozen broccoli (it comes in 12 oz. bag – perfect amount). Just thaw in the microwave. Just know, it's not an original recipe but one that's been changed to satisfy my family. I'm sure you can find countless recipes online, but here's mine – a simple meal, easy brunch pot-luck dish… or even an appetizer. Use up leftover chicken, leftover broccoli… I bet it'd be tasty with an Italian spin of spinach and mozzarella! Let me know if you try it out!
Chicken Broccoli Braid (inspired by original Pampered Chef recipe)
Minutes to Prepare: 20
Minutes to Cook: 20-25
Number of Servings: 8-10
½ cup (4 ounces) shredded cheese (sharp cheddar, four cheese blend, mild cheddar)
½ cup mayonnaise
2 teaspoons dry oregano (Could use dill but my hubby doesn't like dill too much)
¼ teaspoon salt
2 cups cooked chicken, cubed or chopped (I had a bit less, 1-1/2 cup seemed to be okay)
1-1/2 cup broccoli, chopped
1 garlic clove, minced
2 packages (8 oz each) refrigerated crescent rolls
1 egg, lightly beaten
Preheat oven to 375 degrees. In medium to large mixing bowl, add cheese, mayonnaise, herbs and salt. Mix well. Incorporate chicken, broccoli and garlic to mixture. Set the bowl aside while you prepare the dough. Unroll crescent rolls – do not separate. Place both packages of rolls on a large cookie sheet side by side. Press seams together to form one long sheet of dough. Along outer side of dough, along each of two opposite sides, cut 1-inch strips from center toward end. Add filling down the center of between the strips. Don't worry if it looks like a mountain…
Braid construction: Lift strips of dough, one at a time, at slight angle. Strips will meet in the center across chicken mixture. Continue alternating strips to form a braid. Tuck ends up to seal at end of braid. Brush with egg wash. Bake 20-25 minutes or until golden brown.
Tags: baking, broccoli, chicken, easy meal, eating, home, kids, recipe