In the Garden: Propagating Christmas Cactus
May 30th, 2014
Continuing with some garden talk from earlier this week…
A few weeks ago, I relocated my mother-in-law's plants to my house.  She has some low maintenance plants, so with her traveling, you'd think they'd be okay. They still need care, and it only makes sense that the plants live with us since I look after them anyway. I know, I look wary…
And, I gotta say, I've never dealt with cacti before, but don't they look sad? Poor plants…
After some reading and searches for cactus care, I thought I'd start with the Christmas Cactus (far left in pic above) and Jade (not pictured) since they were already shedding leaf segments. (Probably stunned from the move.) By the way, Christmas Cacti don't live in the desert… they come from the rainforest. Who knew?
First I learned that the leaflets have to callous over, and they end up shooting out roots looking for water. I left them on a paper towel in some indirect light. With the Jade, an empty stem stuck in the soil started to bud.
Time to plant the Christmas Cactus. I prepped some cactus soil mix with additional perlite to make the soil airy and well-draining.
This little pot doesn't have drainage holes, so I put a small layer of gravel to help with draining.
I filled up a bunch of pots with the soil mixture, watered them first, and then stuck the cuttings in the pots.
Ta da!!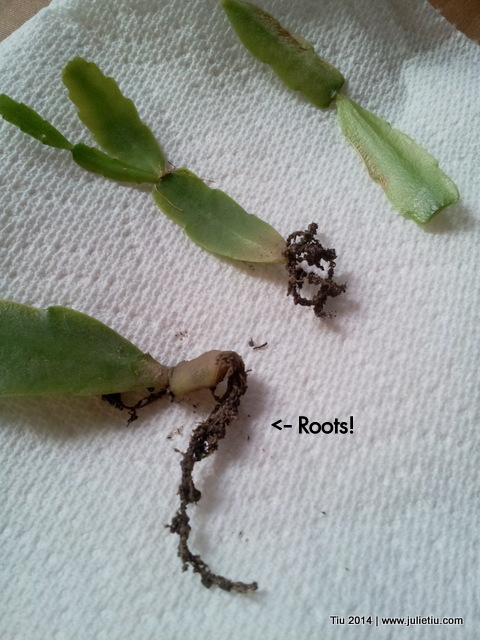 And in a few weeks, the roots grew! It's magic! These next pictures are the next victims in the cacti rejuvenation project.
For your reading pleasure, I found this post on Christmas Cactus care at Garden Hacker, and this great one about propagating succulents.
More posts from my garden adventures.
Tags: cacti, garden, gardening, houseplants, plants, succulents, summer