Archive for the 'eating' Category
October 7th, 2014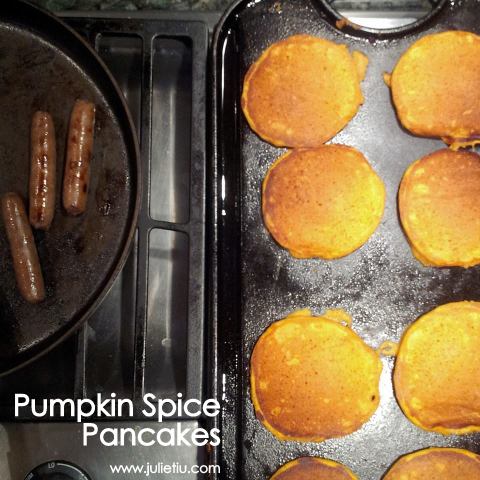 The weather is cooler, fall colors are everywhere, and pumpkin has invaded every corner of the food world. Personally, I love it, though I know a lot of people are over it. (Especially with the hashtags #psl, #pumpkinlatte, #pumpkinstakeovertheworld…) It's only one season, friends. Enjoy it. Embrace the pumpkin.
Every year I make my fair share of pumpkin bread and bars. Here I am offering a new recipe (in our house). Pancakes are a perpetual fave here, so I tried adding pumpkin and spices. Delicious.
We like to make a bunch and then freeze the leftovers. I space the leftover pancakes in a single layer on cookie sheets and freeze for a couple of hours. When frozen, I take the pancakes off the cookie sheets and store in a plastic bag for easy handling. They reheat easily in the microwave or the toaster oven.
Pumpkin Spice Pancakes
Yield: 2-1/2 dozen 5-inch pancakes
Dry ingredients:
2-1/4 cups all-purpose flour
½ cup granulated sugar
¼ cup packed brown sugar
3 tsp. baking powder
1 tsp. baking soda
2 tsp. cinnamon
2 tsp. ground ginger
¼ tsp. grated nutmeg
1/8 tsp. ground cloves
Hefty pinch of salt
Wet ingredients:
2-2/3 c. whole milk
2 tbsp. apple cider vinegar
4 lg. eggs
8 tbsp. (1 stick) unsalted butter, melted
2 tbsp. dark rum
2 tsp. vanilla extract
1-1/2 cup canned pumpkin
In a large mixing bowl, combine all the dry ingredients. Whisk until mixed well. In another large bowl, mix all the wet ingredients, except the pumpkin. Add the wet ingredients to the dry ingredients, and mix just until the dry ingredients are incorporated. Gently fold in the pumpkin.
Heat your griddle (pan or skillet) over medium heat – lightly oil or butter your griddle. Using a ¼ cup scoop, pour batter onto the hot griddle. Leave space for batter to spread. Flip the pancakes over when the bottom side is golden and the topside has popping bubbles. Cook until underside is light brown. Serve immediately, or hold in a 200 degree oven.
Happy first weekend of #autumn. Pumpkin spice pancakes on the table this morning. #nofilter
So, hello, October. We've been on the go over the last month. Not a bad thing, right? Be active, make memories, enjoy the outdoors… it probably helped that our laptop (what I work on the most) was acting all goofy, and I didn't really make time to fix it. Until now.
Catch me at Instagram and Facebook!
June 6th, 2014
I love cooking with chicken thighs mainly because they are so forgiving. You gotta do a lot to overcook them, and while I can bake and roast, sometimes my pan-frying or stir-frying doesn't always turn out. So, after a lot of trying, I think I have it down now. I made this for dinner, and my kids loved that there was plenty of gravy to spoon over their rice. Keep reading for the recipe!
Tags: chicken, chicken thigh, cooking, dinner, recipe, stir-fry

April 9th, 2014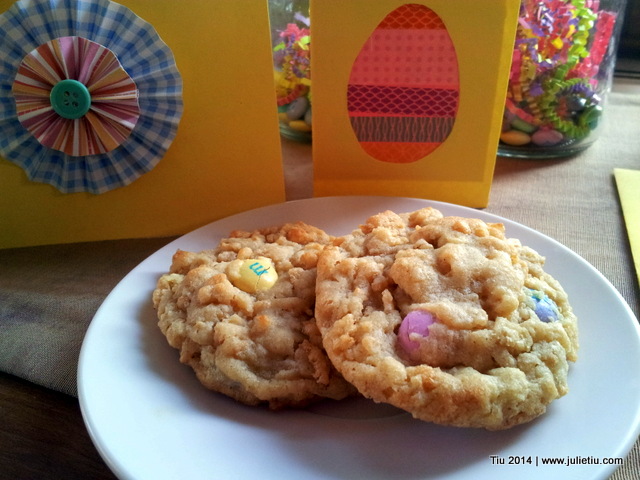 While we were visiting our friends last week, I thumbed through their cookbooks one evening. Just something I do. Some people like reading fiction, non-fiction, I peruse cookbooks. So I stumbled upon a cookie recipe that reminded me of monster cookies, or everything-but-the-kitchen-sink cookies. What caught my attention was the crispy rice cereal (okay, Rice Krispies, everyone!). I thought the texture might be a weird, interesting contrast. I also thought, will all the rice get crunched up and smooshed into dust? They did not… the cereal added a fun crunch and for my kid and me who have nut allergies, it's a welcome change!
I checked out a few recipes and found that three cups of flour would make the batter very crumbly and dry, so I took out a cup. Original recipes did not include chocolate chips either. In this batch we made it festive and added spring colored M&M's. I also used butter instead of shortening, and omitted one cup of shredded coconut. Please feel free to put it back in, I just didn't want my son's friends complaining. Next time around I'll add it.
Ranger Cookies
Yields 24-36
1 cup unsalted butter (2 sticks, softened at room temperature)
1 cup granulated sugar
1 cup packed light brown sugar
2 large eggs (room temperature)
1 teaspoon vanilla extract
2 cups all-purpose flour
1 teaspoon baking soda
1/2 teaspoon salt
1 teaspoon baking powder
2 cups rolled oats, not instant
1-3/4 cups crisp rice cereal
1 cup M&Ms or chocolate chips
1 cup shredded coconut (Optional, and if you add this, decrease the chocolate chips by 1/2 cup)
Preheat oven to 375 degrees F. Cream butter and sugars until smooth. Add eggs and vanilla; beat until light and fluffy. Whisk flour, baking soda, salt, and baking powder together in a large bowl and add to the butter-sugar mixture. Add oatmeal, cereal, and chocolate chips (and/or coconut). Mix well. Drop by tablespoons on slightly greased cookie sheet and bake for 10-12 minutes.
March 9th, 2014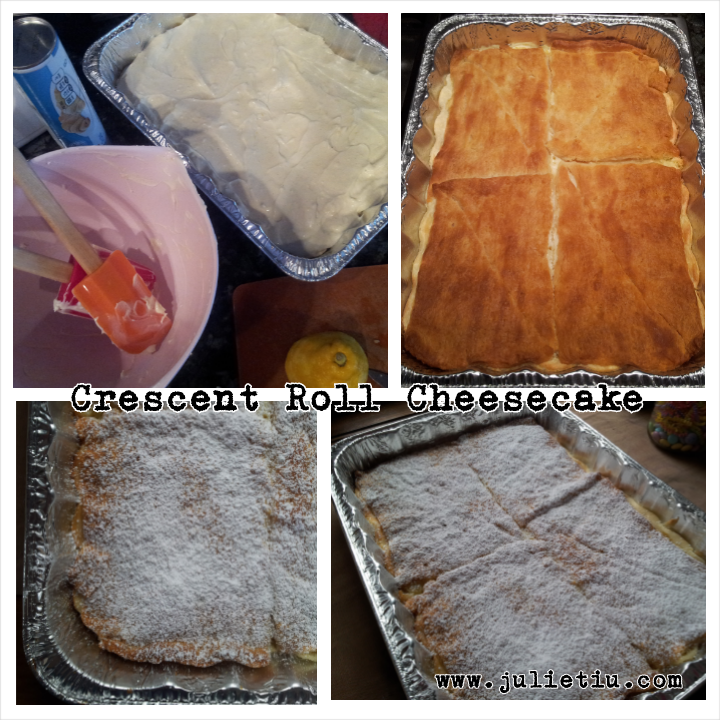 This might be my quickest dessert offering next to Crazy Cake. I made this all the time with my mom, and eventually it was my responsibility to bake this for the big family dinners. This cheesecake cuts into squares and travels well which means… easy to bring to potluck meals! (I can't believe how long it's been since I've actually baked this. Maybe 15 years??)
Here's the breakdown.
2 packages of refrigerated crescent rolls
2 (8 oz.) packages of cream cheese (softened)
3/4 cup sugar
1 large egg
Juice and zest from one lemon
1/2 teaspoon vanilla extract or paste
Egg white (optional)
Powdered sugar (optional)
Preheat oven to 375 degrees. Lightly grease a 9″ x 13″ baking pan. Open one package of crescent rolls, unroll dough leaving it in its rectangular shape. Place the dough on the bottom of baking pan and pat in place, stretching out gently to make into the bottom crust. Set aside.
In a large bowl, combine the cream cheese, sugar, egg, lemon juice, zest and vanilla. Use a hand or stand mixer to blend the ingredients until smooth, then beat on high for two minutes. Spread this mixture on the crust.
Open the remaining package of dough, and in the same manner as the bottom crust, place the dough on top of the cheesecake mixture. At this point, you could beat an egg white and brush on top of the dough. Bake 20-30 minutes, until top is golden brown, and toothpick placed in center comes out clean. Let cool completely. Sift powdered sugar over the cheesecake before serving.
This yields (24) 2″ squares.
Tags: baking, cheesecake, cooking, lemon cheesecake, recipe

March 6th, 2014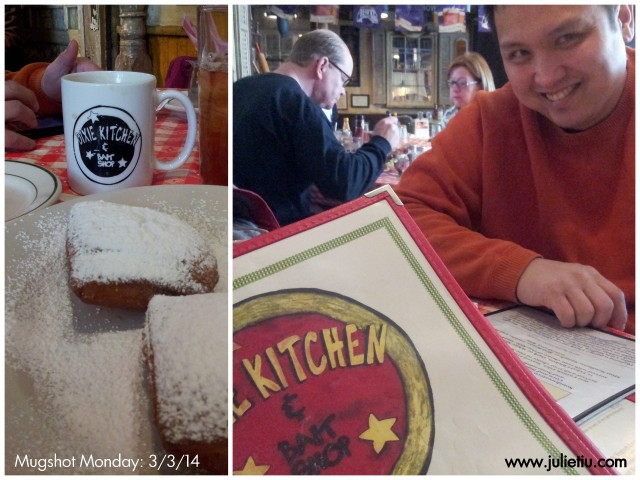 Day off for the hubby, so we hit up places that kids don't necessarily enjoy, like The Spice House, grocery shopping… you get the idea.
This place seemed like the perfect spot for lunch given that the next day was Mardi Gras. Oh, how I love me some Cajun and creole dishes. Beignets were a lovely, pillowy, powdery, doughy end to some finger-lickin' good eats. Thanks for lovely lunch, Dixie Kitchen!
More goodies here: Recipe for Lent, Broccoli side dish
Tags: eating out, monday, monday mugshot, mug, mugshot

July 16th, 2013
Our Monday Mugshots prompt on July 15 was "Freedom".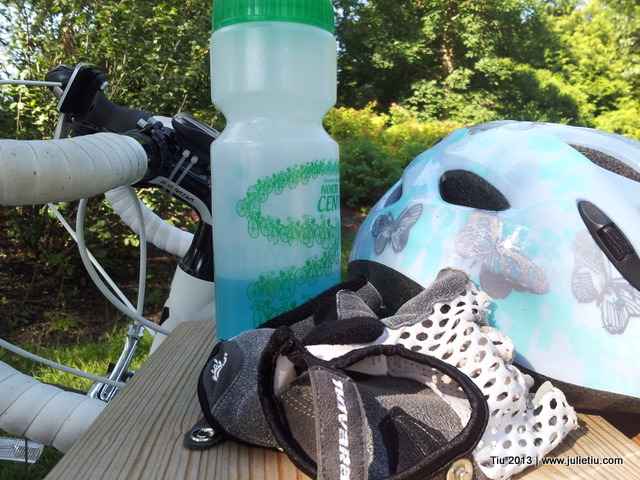 I celebrated my 40th birthday on Monday with a bike ride to the botanic gardens from my home and back (36.5 miles total). Now that's freedom – to ride with the wind in my face on a bike path with woodland forests and prairies. (Nevermind that it was crazy humid and hot by noon.) Had pastry and fresh fruit for breakfast – hubby and the kids met me at the garden for a picnic.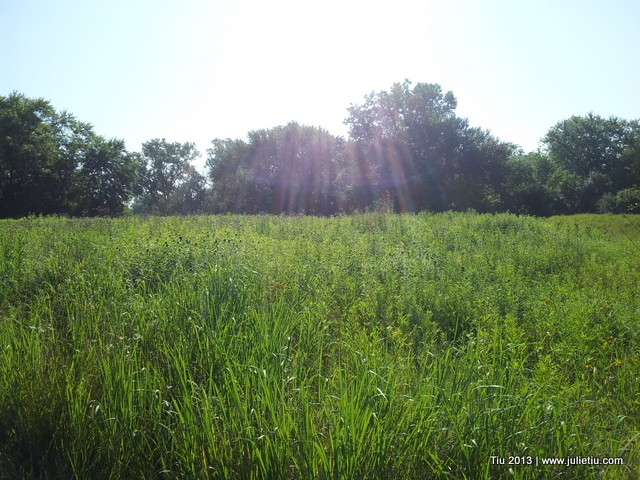 Later, we visited our favorite tea spot – way too hot outside for hot tea. We opted for some iced Samba de Rio (blended green tea with mango, pineapple and yellow rose buds) and an Arnold Palmer. The window decor from July 4th was still up with the red, white, and blue mugs in the background.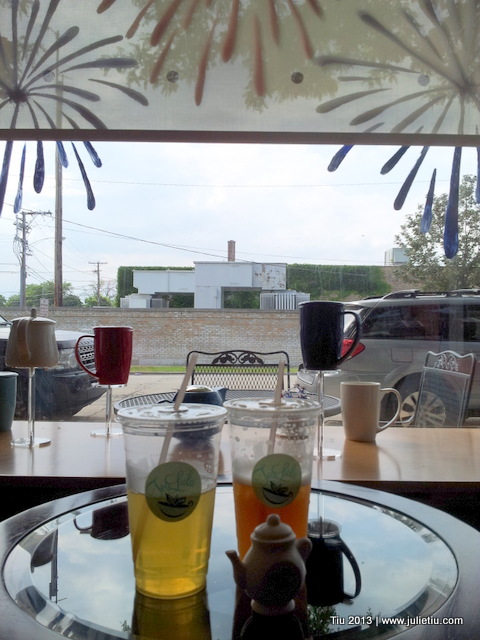 Tags: bike, birthday, monday, monday mugshot, mug, mugshot, ride