Posts Tagged 'favorite things'
May 28th, 2015
In the midst of all this, my son celebrated his First Communion. What a wonderful time with family and friends coming together on a gorgeous day. 🙂
(Back in April) Our Spring Break road trip led us here on the way home…
… and then a terrible case of sinusitis and migraines. Worst I ever felt in a long time.
The clouds started to part and I joined the #taggedbykindness project with Kristi at soul-positive.com and Amy at fearlesslines.com.
And wouldn't you know it, I dove into our local Art Show and taught a drawing class…
Tags: family, favorite things, living, vacation

September 1st, 2014
This year I joined an online workshop, Ali Edwards's One Little Word. I've wanted to try something like this for a long time, to be part of a creative community even if we're all miles and miles away.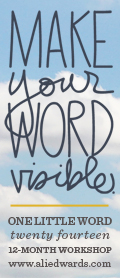 I haven't updated on a regular basis at all (in
January
and
April
), but I've been working along with monthly prompts and reflections. My One Little Word is "dare", as I explained in my January post. Below you'll find a gallery of my journaling so far. Just click on the pictures to see them larger.
Earlier in the year I worked on intentions, taking a look at different facets of my life: spiritual, physical, emotional, creative, relationships. It took a while, but I also came up with a symbol for this year. The fleur-de-lis. I love this symbol for so many reasons: it reminds me of Montreal, (where my husband and I went on our honeymoon), New Orleans (vacation spot and amazing culture and food), and it reminds me of St. Joan of Arc (incidentally also the name of my elementary school). And if you don't think she was daring, I don't know who is.
I made actions cards that have goals and ideas for the year. Some have been successful, while others… not yet. I've reflected on letting go. One month, I put together pictures that connect with my word. It's been so much fun making time to be creative and introspective.
The best part of all of this has been meeting a pen pal and connecting with the community in a private Facebook group. My pen pal was chosen randomly, but holy cow, it's crazy eerie how we have a lot of similar craft tastes. She and I send happy packages of mail to each other (last picture in the gallery).
Most recently I created artist trading cards with the phrase "I am" on each of them. I'm looking forward to sharing how I put these cards together.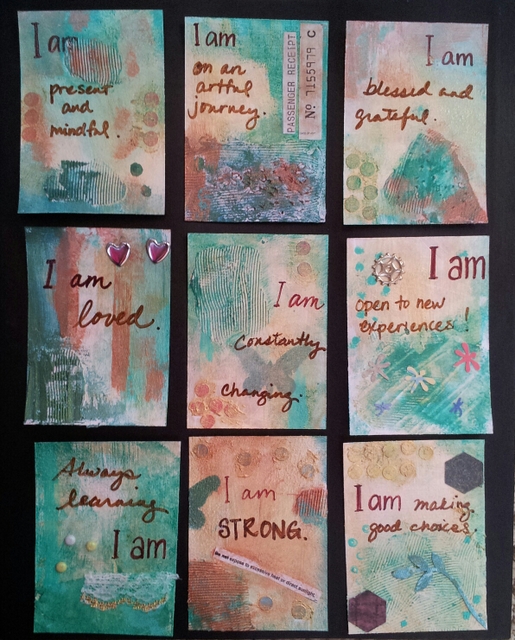 Tags: art, crafting, favorite things, journal, OLW, One Little Word, paint, recycled paper

March 24th, 2014
I'm writing in bits and pieces this morning, because my head is filled with choppy ideas. Sometimes "choppy" is all I have. Life right now feels like it's disjointed, but all are good chunks of time. If you're a reader out there, hope you're flowing along better than me. 🙂
Hosted an "open craft table" night at home with a few pals. Definitely want to do more!
Watching March Madness and playing our annual family bracket pool. Winner picks dinner out.
Stitched a postcard for the Great Stitched Postcard swap.
Preparing to teach a paper flower workshop at TeaLula this week!
Working on another Subway Art piece for a lovely lady who won it in an auction for Kalo Foundation of Park Ridge.
Participating in the #showusyalists journal challenge. Five lists in five days, and lots of fun.
Getting ready to visit friends over Spring Break at Goldberry Woods.
Helped out a friend join Pinterest and the Twittersphere. Won't you welcome her?
Tags: favorite things, living, monday, monday mugshot, mug, mugshot

October 21st, 2013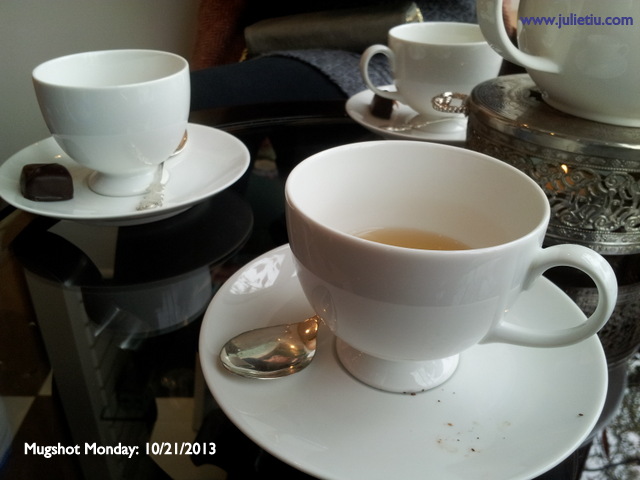 Moms. Sometimes we struggle to make time for ourselves. It just makes the little get-togethers that we DO have even better!
So happy to have found these ladies through our children.
Tags: favorite things, monday, monday mugshot, mug, mugshot, tea, TeaLula

March 19th, 2013
We headed to our favorite tea shop for Mugshot Monday. Yesterday morning was a little more festive than usual – TeaLula celebrated its five year anniversary! (What a great milestone for a new business!) Check out the big number five – a picture of Oliver is at the tail end. He fell asleep on that table, in that very window.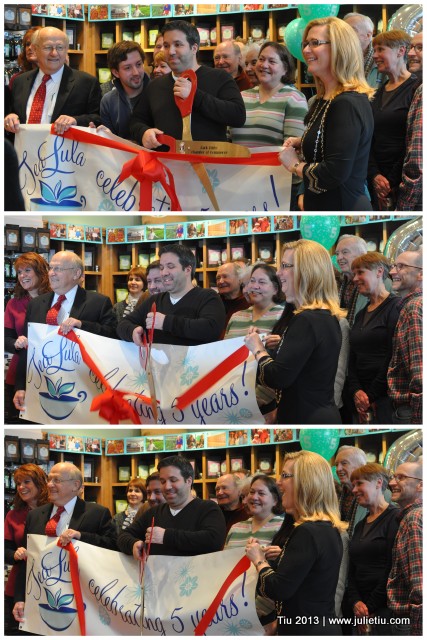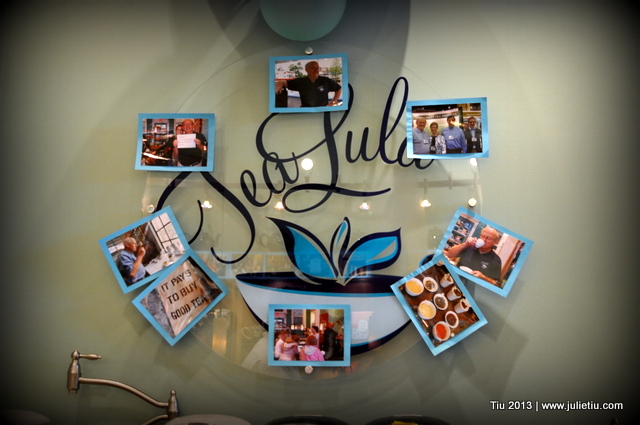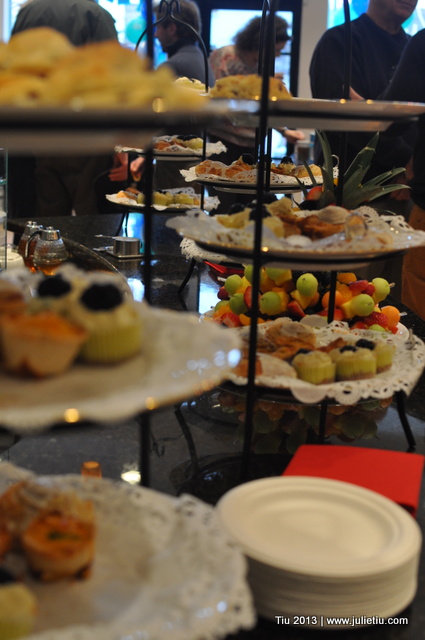 Mingling around with our tea friends, having a spot of tea, scones and fruit made for a lovely morning.
It's hard to remember now, lugging Oliver's infant car seat into the shop. (So sweet how the staff remembers.) Then he learned to sit up at the bar and sip his rooibos… totally content. Now we bring the iPad so I can have a little more time to chat with our friends.
It wasn't just a teashop for me. It was my refuge once a week, a time to talk with "grown-ups". (We tease now because we're not sure how "grown up" our conversations were!) I was settling into my new role as a stay at home mom, and with postpartum depression experience from the first time around, I was hell bent on not going down that path again. TeaLula was my way of doing something for me, even if it was just for an hour or so.
When I first went to the store, I could not get over how quaint and cute everything was. Talk about wanting to buy everything…
So, congratulations and thank you, Sheila, for not just creating the loveliest, cutest shop ever, but creating an atmosphere of friendship and hospitality. It's a haven for anyone. The best part wasn't learning about all the delicious teas from around the world, it was meeting you and everyone at TeaLula who I can call friends. Here's to more good old days.
**Update: Links to more TeaLula posts including Oliver falling asleep.
Tags: favorite things, Friends and Family, monday, monday mugshot, mug, mugshot, tea, TeaLula

January 14th, 2013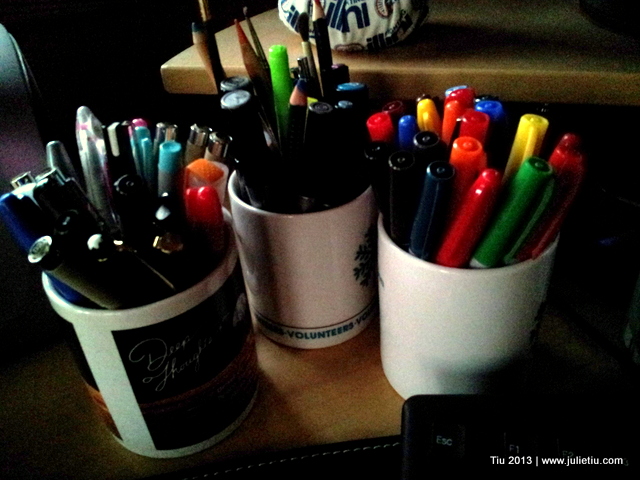 No coffee or tea shot today, but here's another way I use my mugs. Hope to make some time to draw and color after the kids are at school. Valentine's Day is just around the corner after all.
(Don't get me wrong… I gotta start the day with a little kick. I'm drinking some lovely coffee from Intelligentsia today.)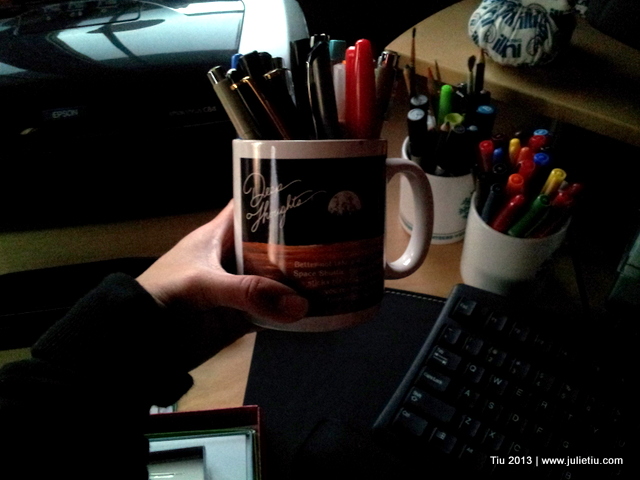 I've had this coffee mug since the 1990s. My best friend from high school (later my college roommate, then matron-of-honor) gave it to me. Who remembers "Deep Thoughts by Jack Handey" on Saturday Night Live? This one reads, "Better not take a dog on the Space Shuttle, because if he sticks his head out when you're coming home his face might burn up." Still makes me laugh! Yes, I'm geeky that way.
So perfect because my friend studied Aerospace and Aeronautical Engineering in college.
H, I'm thinking of you today. 🙂
Have a great Monday everyone!
Tags: coffee, favorite things, Friends and Family, monday, monday mugshot, mug