Posts Tagged 'eating'
October 7th, 2014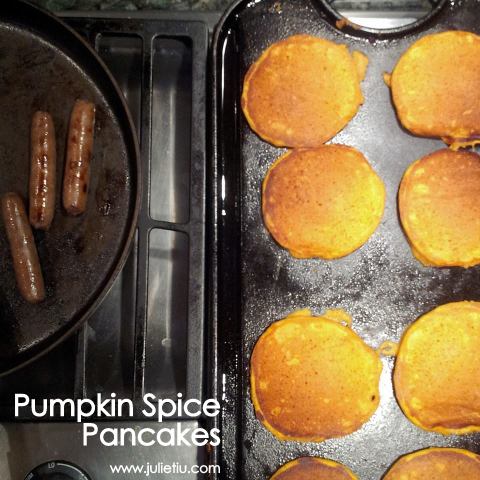 The weather is cooler, fall colors are everywhere, and pumpkin has invaded every corner of the food world. Personally, I love it, though I know a lot of people are over it. (Especially with the hashtags #psl, #pumpkinlatte, #pumpkinstakeovertheworld…) It's only one season, friends. Enjoy it. Embrace the pumpkin.
Every year I make my fair share of pumpkin bread and bars. Here I am offering a new recipe (in our house). Pancakes are a perpetual fave here, so I tried adding pumpkin and spices. Delicious.
We like to make a bunch and then freeze the leftovers. I space the leftover pancakes in a single layer on cookie sheets and freeze for a couple of hours. When frozen, I take the pancakes off the cookie sheets and store in a plastic bag for easy handling. They reheat easily in the microwave or the toaster oven.
Pumpkin Spice Pancakes
Yield: 2-1/2 dozen 5-inch pancakes
Dry ingredients:
2-1/4 cups all-purpose flour
½ cup granulated sugar
¼ cup packed brown sugar
3 tsp. baking powder
1 tsp. baking soda
2 tsp. cinnamon
2 tsp. ground ginger
¼ tsp. grated nutmeg
1/8 tsp. ground cloves
Hefty pinch of salt
Wet ingredients:
2-2/3 c. whole milk
2 tbsp. apple cider vinegar
4 lg. eggs
8 tbsp. (1 stick) unsalted butter, melted
2 tbsp. dark rum
2 tsp. vanilla extract
1-1/2 cup canned pumpkin
In a large mixing bowl, combine all the dry ingredients. Whisk until mixed well. In another large bowl, mix all the wet ingredients, except the pumpkin. Add the wet ingredients to the dry ingredients, and mix just until the dry ingredients are incorporated. Gently fold in the pumpkin.
Heat your griddle (pan or skillet) over medium heat – lightly oil or butter your griddle. Using a ¼ cup scoop, pour batter onto the hot griddle. Leave space for batter to spread. Flip the pancakes over when the bottom side is golden and the topside has popping bubbles. Cook until underside is light brown. Serve immediately, or hold in a 200 degree oven.
Happy first weekend of #autumn. Pumpkin spice pancakes on the table this morning. #nofilter
So, hello, October. We've been on the go over the last month. Not a bad thing, right? Be active, make memories, enjoy the outdoors… it probably helped that our laptop (what I work on the most) was acting all goofy, and I didn't really make time to fix it. Until now.
Catch me at Instagram and Facebook!
April 2nd, 2013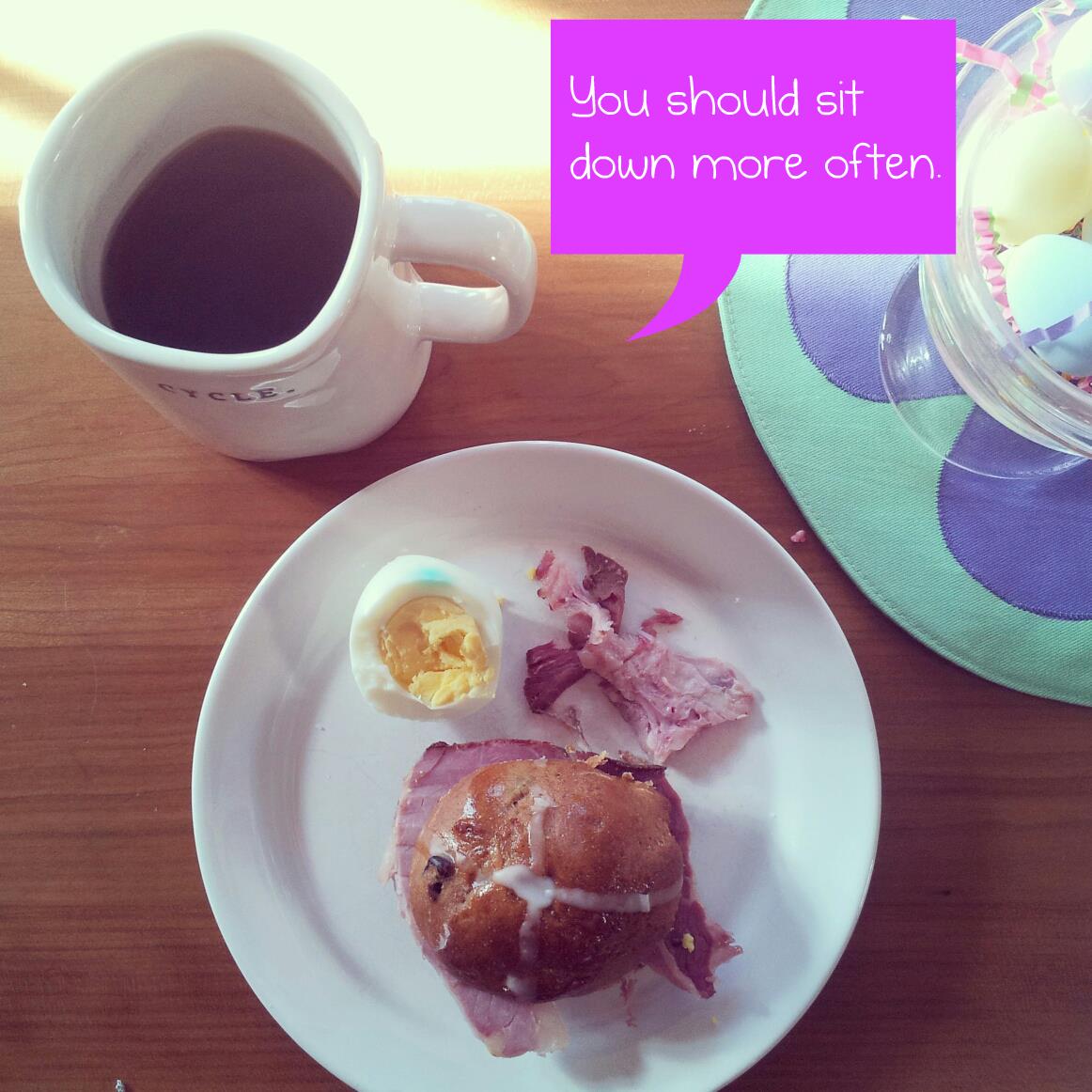 Yes, I should sit…
I could sit at my sewing machine, at the desk to finish our taxes, at the table with my kids, at the tea bar, on the couch to watch a few shows on the DVR (anyone watching Dallas?!).
… but yesterday, I sat for a few minutes with my leftovers from a wonderful Easter weekend.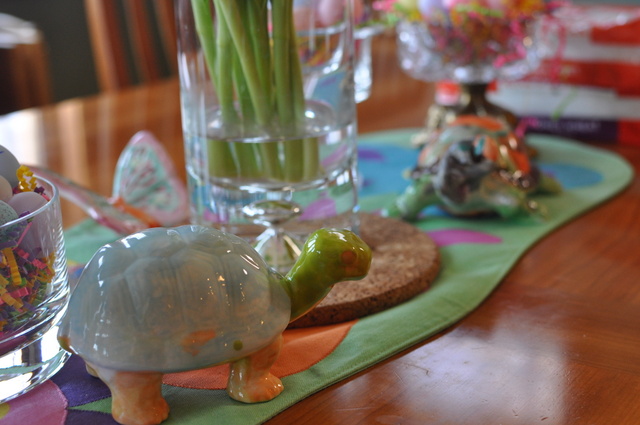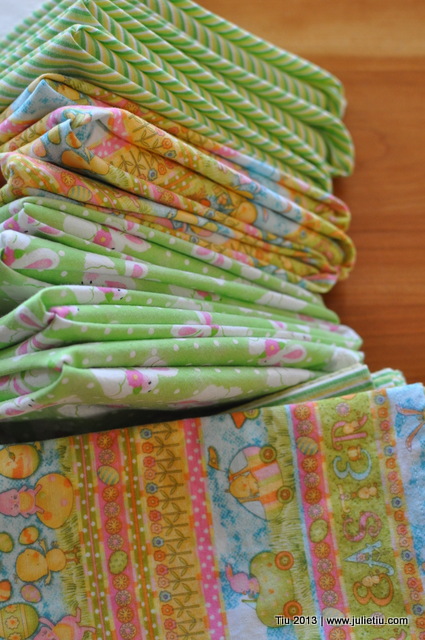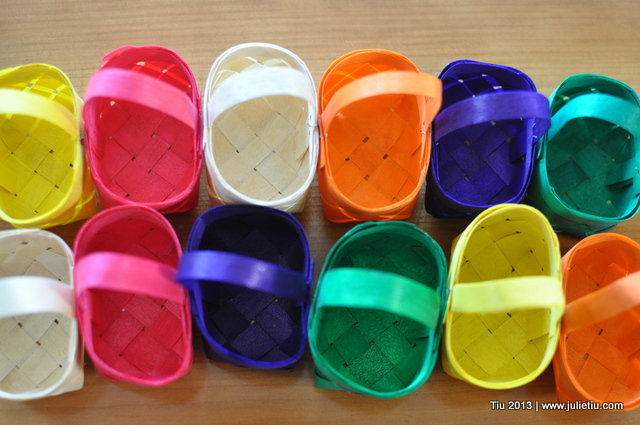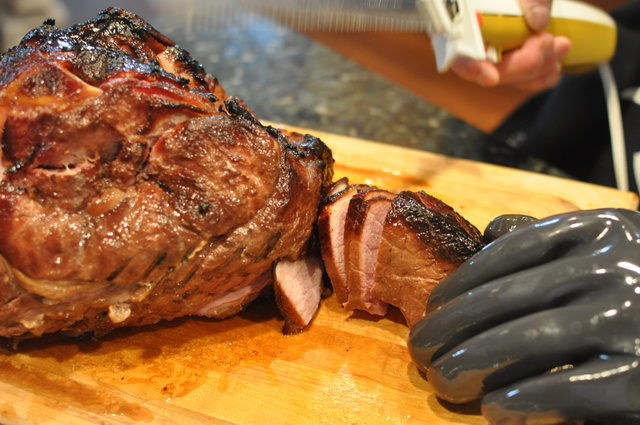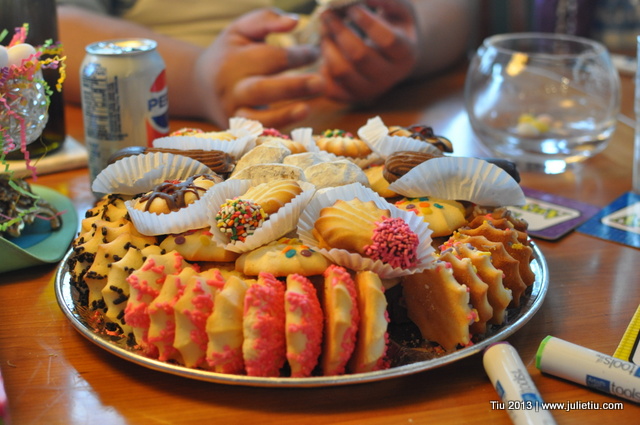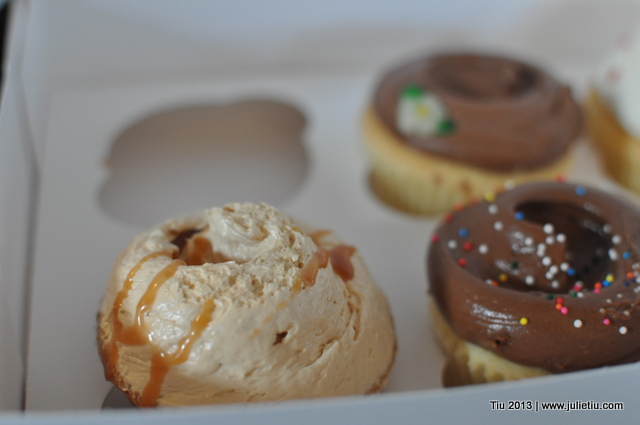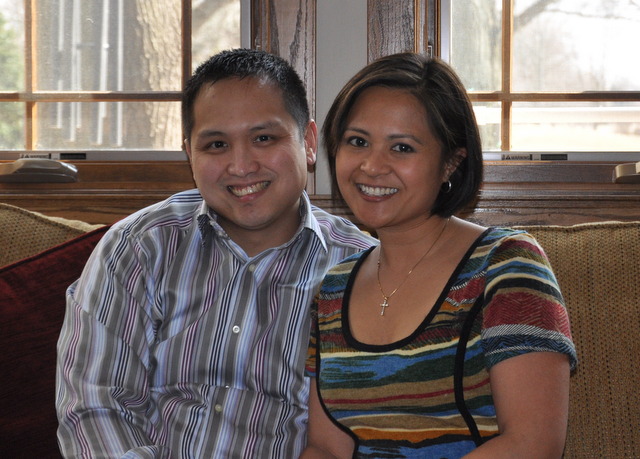 Tags: cooking, Easter, eating, holiday, home, monday, monday mugshot, mugshot, Mugshot Monday

November 5th, 2012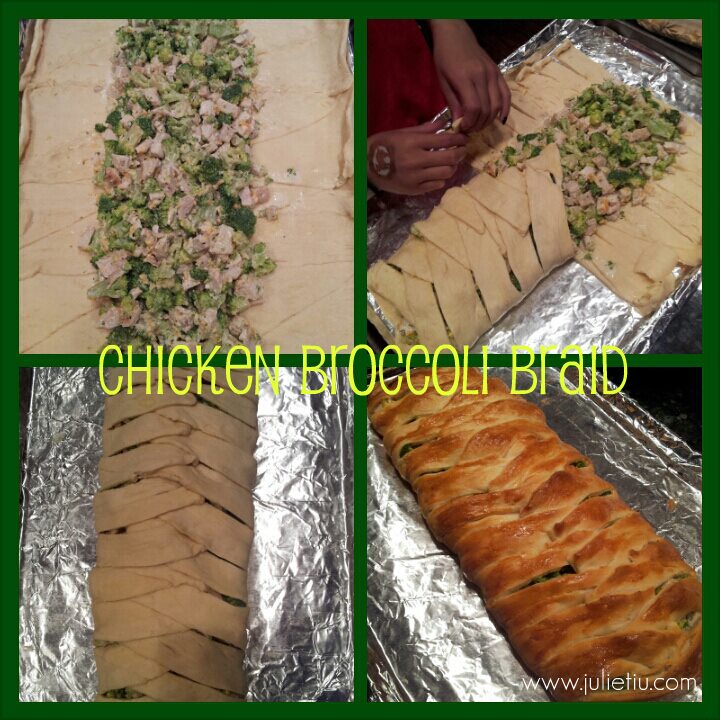 When my husband works late, or is out with the guys, my daughter will ask if I can make this for dinner. Like it's her "mom-kids night" favorite? It's cute to hear her say, "Ooh, chicken braid…" This time she helped put it together. Easy, so easy to make when you have some leftover chicken and broccoli. You could even use a bag of frozen broccoli (it comes in 12 oz. bag – perfect amount). Just thaw in the microwave. Just know, it's not an original recipe but one that's been changed to satisfy my family. I'm sure you can find countless recipes online, but here's mine – a simple meal, easy brunch pot-luck dish… or even an appetizer. Use up leftover chicken, leftover broccoli… I bet it'd be tasty with an Italian spin of spinach and mozzarella! Let me know if you try it out!
Chicken Broccoli Braid (inspired by original Pampered Chef recipe)
Minutes to Prepare: 20
Minutes to Cook: 20-25
Number of Servings: 8-10
½ cup (4 ounces) shredded cheese (sharp cheddar, four cheese blend, mild cheddar)
½ cup mayonnaise
2 teaspoons dry oregano (Could use dill but my hubby doesn't like dill too much)
¼ teaspoon salt
2 cups cooked chicken, cubed or chopped (I had a bit less, 1-1/2 cup seemed to be okay)
1-1/2 cup broccoli, chopped
1 garlic clove, minced
2 packages (8 oz each) refrigerated crescent rolls
1 egg, lightly beaten
Preheat oven to 375 degrees. In medium to large mixing bowl, add cheese, mayonnaise, herbs and salt. Mix well. Incorporate chicken, broccoli and garlic to mixture. Set the bowl aside while you prepare the dough. Unroll crescent rolls – do not separate. Place both packages of rolls on a large cookie sheet side by side. Press seams together to form one long sheet of dough. Along outer side of dough, along each of two opposite sides, cut 1-inch strips from center toward end. Add filling down the center of between the strips. Don't worry if it looks like a mountain…
Braid construction: Lift strips of dough, one at a time, at slight angle. Strips will meet in the center across chicken mixture. Continue alternating strips to form a braid. Tuck ends up to seal at end of braid. Brush with egg wash. Bake 20-25 minutes or until golden brown.
Tags: baking, broccoli, chicken, easy meal, eating, home, kids, recipe

April 10th, 2012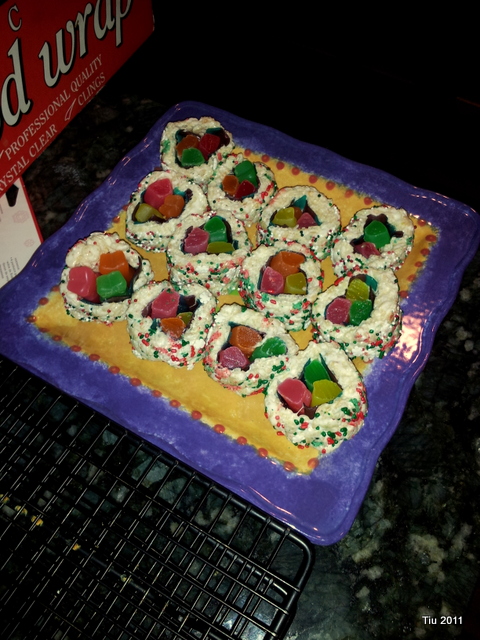 These are more like instructions rather than a recipe since you're not going to cook a thing! We served these at a party where kids and grown-ups gave us great feedback about the rice krispie sushi. This might be something fun to do for a kids (heck, for adults, too) birthday party, a potluck? If you gave up sweets for Lent, this is a sugary way to break your fast.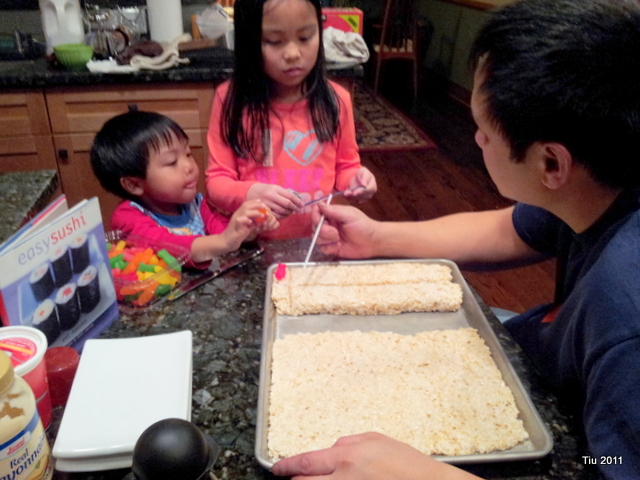 What You Need
One batch of prepared Rice Krispie treats
Cooking spray (like Pam)
Candy: Swedish Fish, Fruit Roll-ups (fruit leather, preferably dark in color), cake decoration sprinkles
For the Nigiri (hand-rolled) Sushi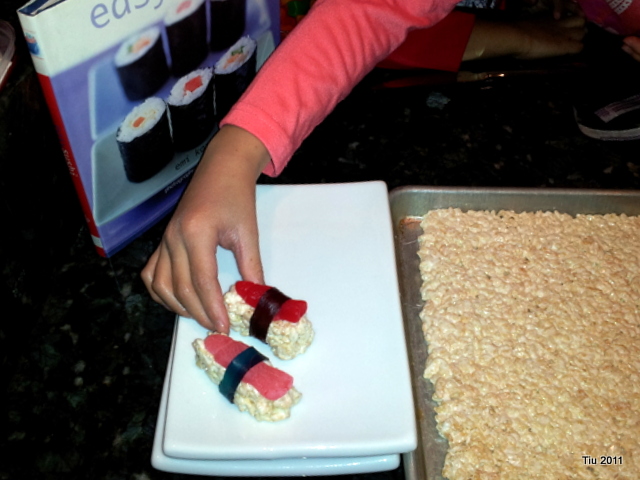 Spray or coat your hands lightly with cooking oil. Butter, magarine works okay too. Create an oblong mound of rice krispies in the palm of your hand. Top with a Swedish fish and wrap with a thin strip of cut fruit leather.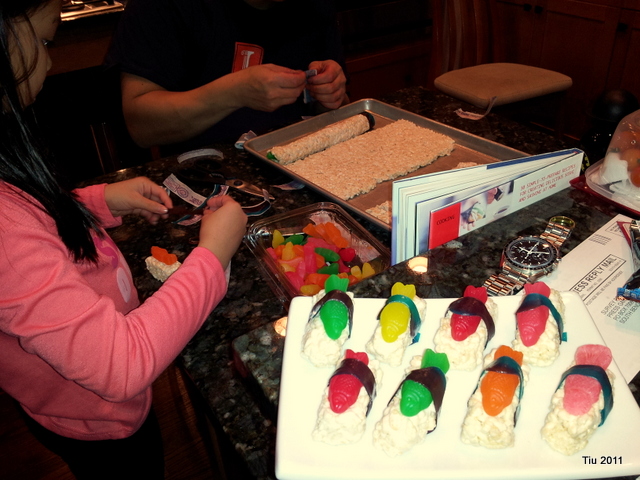 For the Maki (rolled) Sushi :: inside-out roll featured in first picture

This one is a little trickier. Make sure your hands are well coated. Using your hands or a rolling pin, you will need to press or roll the rice krispie treats to a thin thickness. 1/4″ – 1/3″ inch should work. Swedish Fish in a row along one end of your prepared rice krispie treat. Roll the end of the rice krispie treat up and over the candy fish until they are covered.
(I have to say, at this point, we forgot to add strips of fruit roll-up for the "seaweed". Lay down some fruit roll-ups before the Swedish fish. You can see it better in the very first picture of this post.)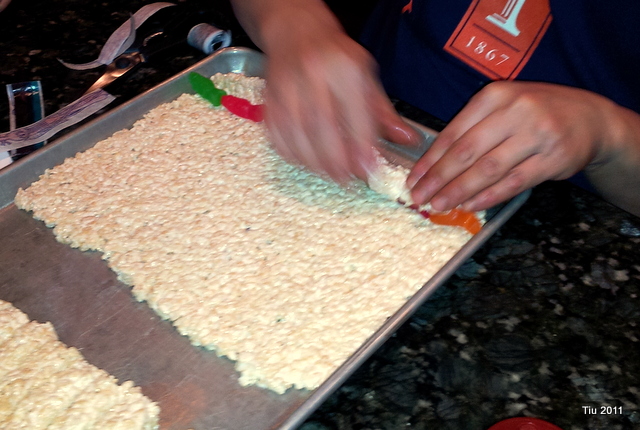 Trim away from the remainder of the rice krispie treat. Shake some sprinkles on the roll (like sesame seeds), and using a sharp, buttered knife, cut into circles – like you would cut cookies.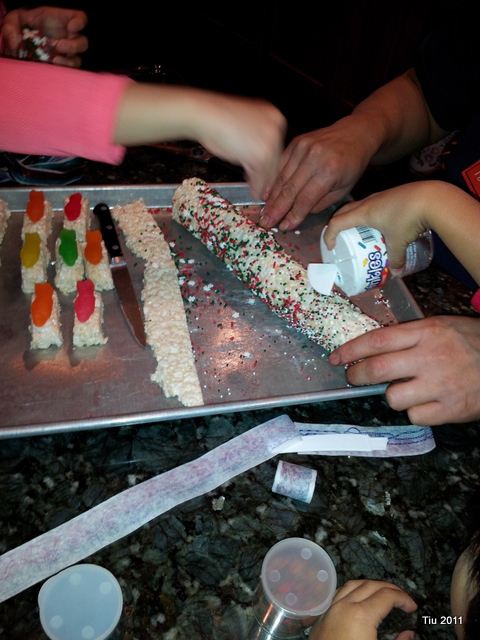 For regular maki
You're going to follow similar directions as above, but save your strips of fruit leather, and roll it around the rice krispie treat after you've cut them into shapes.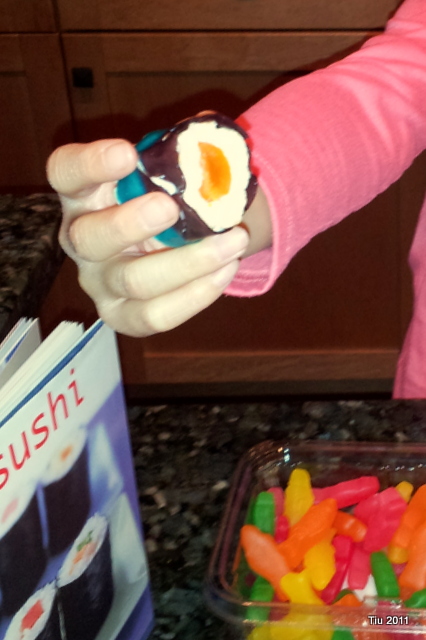 If you attempt to make these, I love to hear how it turns out! Share your pics and links! Enjoy…
Tags: cooking, crafting, eating, fun, kids, recipe, sushi, tutorials

December 2nd, 2011
Here are some gift ideas for the foodie in your life, or for yourself! These food books live on our bookshelves with the exception of the children's book and Ruhlman's Twenty. That's on my wish list – maybe Santa will leave it under the tree for me. Click on the images for more information. What's on your "to-read" list?
November 4th, 2010
My in-laws received some delicious mid-autumn festival mooncakes from friends and shared them with us. If you aren't familiar, these are delicious little Chinese pastries (you could even say, filled cookies) filled with red bean, lotus paste or maybe a hard-boiled duck egg. Ours are fruit-filled which bodes well for the kids.
The imprint on the cake is my favorite thing… I wonder if I can find some "stamps" from a Chinese bakery? Wouldn't those be fun in a craft room display? And the box that the cakes came in, it's so cute with a magnetic closure. We're keeping that for something – maybe my craft supplies. Just when you thought there wasn't anymore, you get plastic knife and tiny little forks that say, "OK". You know, because waiting to eat the cakes until you get home from the bakery just won't cut it.
Tags: autumn, chinese food, eating, mooncakes