Posts Tagged 'sushi'
April 10th, 2012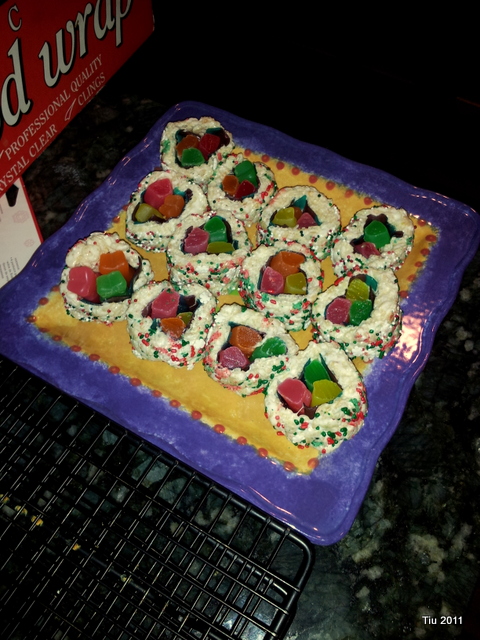 These are more like instructions rather than a recipe since you're not going to cook a thing! We served these at a party where kids and grown-ups gave us great feedback about the rice krispie sushi. This might be something fun to do for a kids (heck, for adults, too) birthday party, a potluck? If you gave up sweets for Lent, this is a sugary way to break your fast.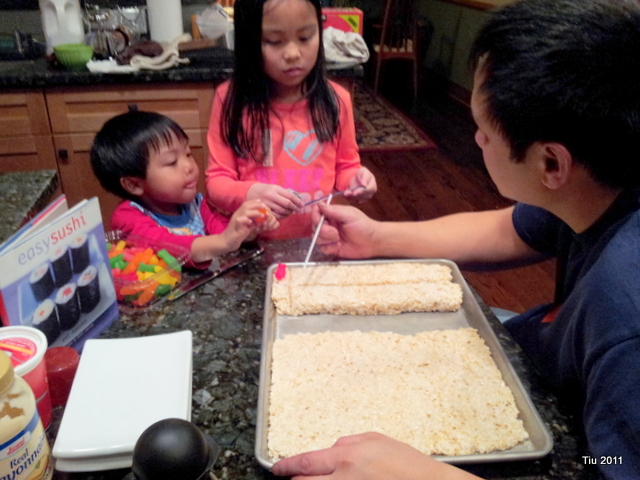 What You Need
One batch of prepared Rice Krispie treats
Cooking spray (like Pam)
Candy: Swedish Fish, Fruit Roll-ups (fruit leather, preferably dark in color), cake decoration sprinkles
For the Nigiri (hand-rolled) Sushi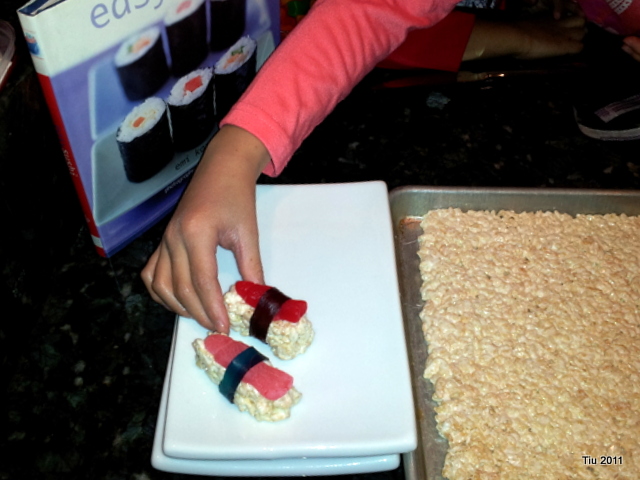 Spray or coat your hands lightly with cooking oil. Butter, magarine works okay too. Create an oblong mound of rice krispies in the palm of your hand. Top with a Swedish fish and wrap with a thin strip of cut fruit leather.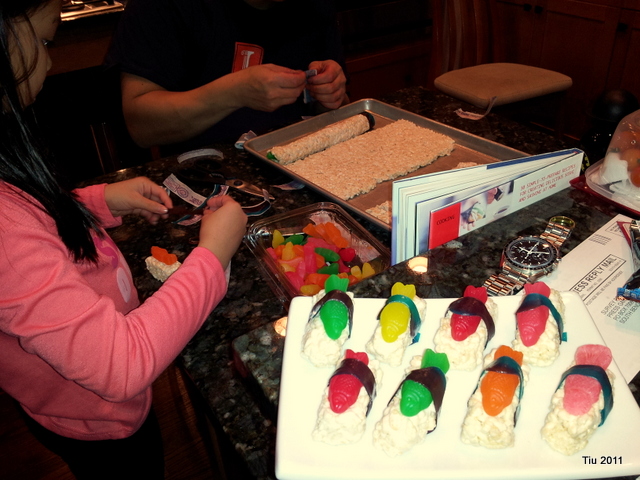 For the Maki (rolled) Sushi :: inside-out roll featured in first picture

This one is a little trickier. Make sure your hands are well coated. Using your hands or a rolling pin, you will need to press or roll the rice krispie treats to a thin thickness. 1/4″ – 1/3″ inch should work. Swedish Fish in a row along one end of your prepared rice krispie treat. Roll the end of the rice krispie treat up and over the candy fish until they are covered.
(I have to say, at this point, we forgot to add strips of fruit roll-up for the "seaweed". Lay down some fruit roll-ups before the Swedish fish. You can see it better in the very first picture of this post.)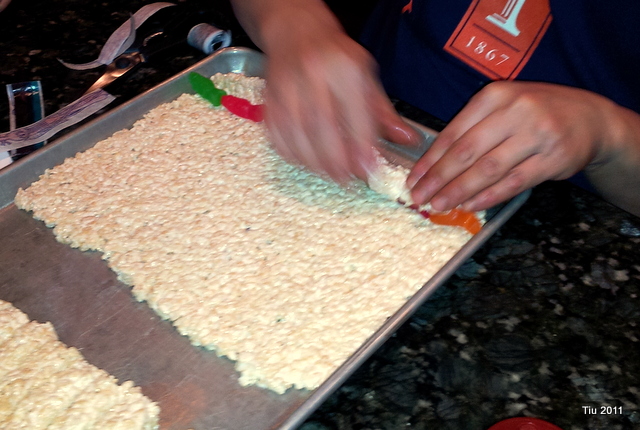 Trim away from the remainder of the rice krispie treat. Shake some sprinkles on the roll (like sesame seeds), and using a sharp, buttered knife, cut into circles – like you would cut cookies.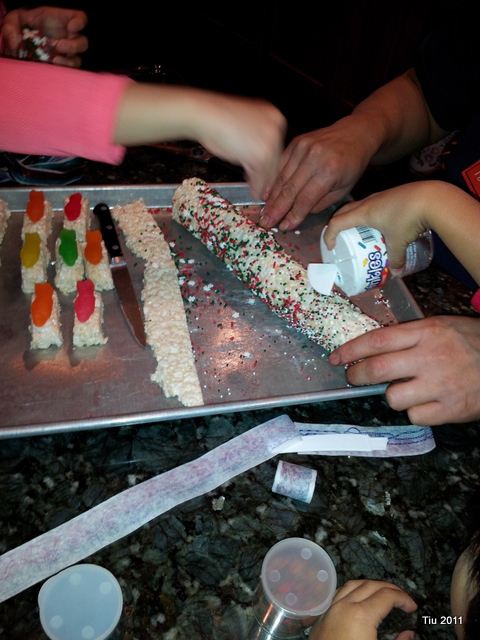 For regular maki
You're going to follow similar directions as above, but save your strips of fruit leather, and roll it around the rice krispie treat after you've cut them into shapes.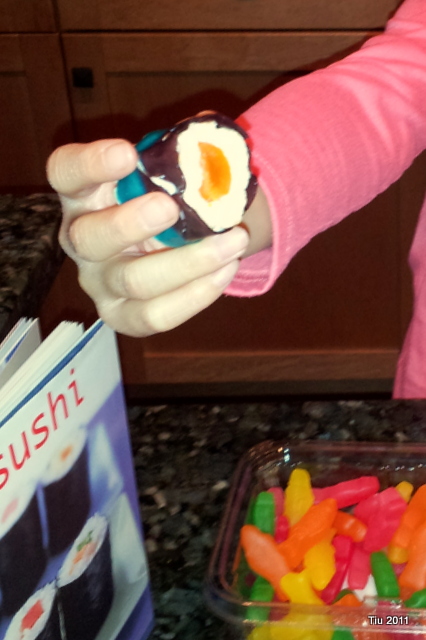 If you attempt to make these, I love to hear how it turns out! Share your pics and links! Enjoy…
Tags: cooking, crafting, eating, fun, kids, recipe, sushi, tutorials

June 30th, 2009
We love this sushi place that's pretty close to our home. I wrote about Asahi in January, and we've dined there a few times since. Last time we went with five other friends and opted for whatever the chef wanted to make that day. So, there were at least six appetizers, maybe seven, and at least twelve types of sashimi. So much food…
These rolls are amazing! The thin slice of lemon on salmon was really refreshing.
Here's a rare photo of all of us. Two college friends, wife of one of the friends, and a couple-friend of previously mentioned married-college friend. And, here's Chef Sato (what a hoot!) coming over to the table, always with a smile and a drink, to see if we've had enough to eat. Actually, he's a big supporter of imbibing, inviting the group with sake bombs and beer… more beer!
We ended the evening, already stuffed with sushi, with delicious, oh so, scrumptious, (not on the menu) mini-rhubarb pies made with love by Becca. Awesome homemade crust, sweet-but-not-too-sweet filling, and crumb topping. Oh, she puts my baking to shame. Well, I might be exaggerating, but she's one darn good baker. Makes me want to try the strawberry-rhubarb pie recipe that I've been sitting on for a year.
Tags: eating out, sushi

January 20th, 2009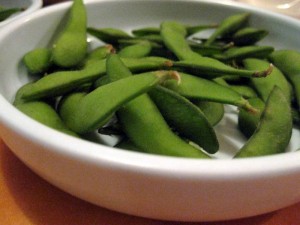 Can you tell that food is an important part of our life? I didn't want to forget to share this restaurant experience. Friend of ours took us to this small Japanese/sushi hideaway in the Northwest 'burbs of Chicago.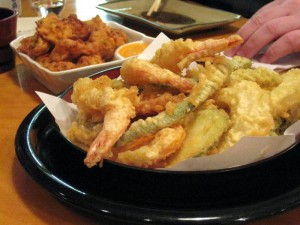 Our friends are bonafide regulars, and as such, we enjoyed what the Chef prepared. Meaning, we did not look at or order off of the menu. We had one appetizer dish per person. That was a lot of food to begin with.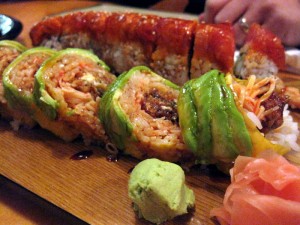 These rolls are divine, no? So tasty…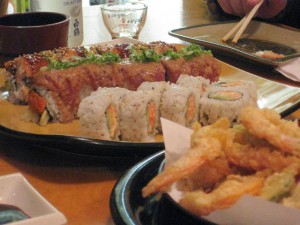 The spicy sauce was definitely hot. I think we had one roll per person also. And then came the sashimi. I'll probably get clarification from my husband about how much food we really ate.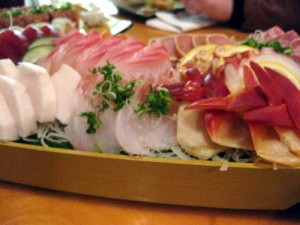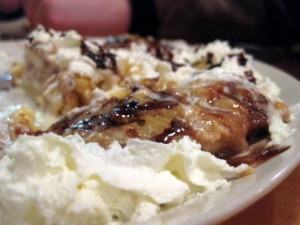 The fried ice cream dessert, what a yummy disaster.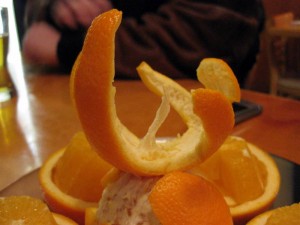 But this. This takes the cake. The orange came with this weird cutout. My husband pulls out the cutout and voila! A little orange peel man violating the orange. The chef was quite pleased with himself. He even said himself, normally, he makes little boys, but this one, he's a man. The table bought the chef a drink to end the night!
Tags: eating, eating out, Friends and Family, living, restaurants, sushi